New Patients at Life Wellness Chiropractic
Welcome to Life Wellness Chiropractic. When you enter our office you will be greeted with a smiling face and a warm handshake before we proceed. We believe our Moses Lake office setting provides for a comforting environment conducive to support a healing process.
Uncovering Your Health Concerns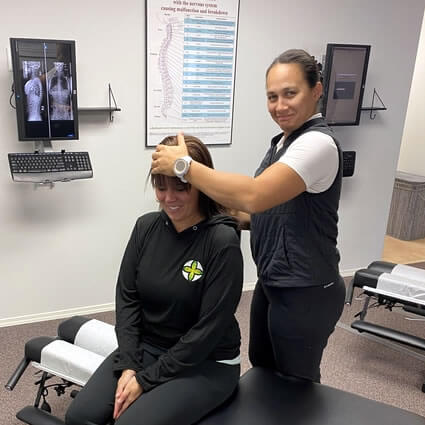 At this time we need to do our administrative information retrieving to start the uncovering of your health concern(s). After this is done you will meet with one of our doctors for a consultation surrounding your chief complaint to see if there is extenuating situations provoking this unsolved problem. Be ready to openly discuss all aspects surrounding the condition.
A Targeted, Functional Physical Examination
A targeted, functional physical examination will be done to see how you perform. A thermography and sEMG test will record the nervous system health. In the vast majority of cases weight-bearing pictures of the spine will be taken to look for what is still normal and the ill effects of malfunction and disease.
What happens Next?
You will be released at this point to set up another appointment to get our report of your findings. Set aside up to an hour for the information-getting session.
If at any time during the first visit you have any concerns such as finances we will happily explain the cost and the various options for payment. Remember, your comfort level and understanding of the process for quality care is critical to your positive experience in our office.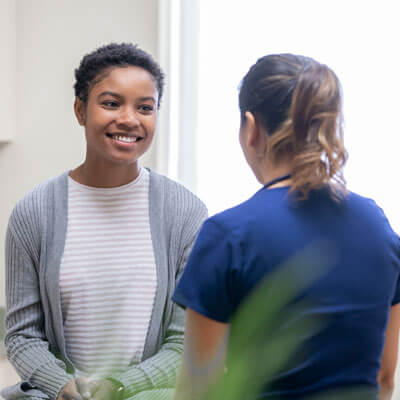 Report of Findings
This visit is the time for your chiropractor to give you a report of findings from the examinations. They will go over what they see wrong, if it can be fixed and how long it will take.
A Returning to Health
In order for you to understand the significance of the findings your chiropractor will explain the very basics of the spine and nervous system and how it works. He will then compare your x-rays to normal standards so you can make a more informed decision about proceeding towards regaining function and stability for better health and quality of life.
Today is the first adjustment session to begin the correction of subluxations and a return to health.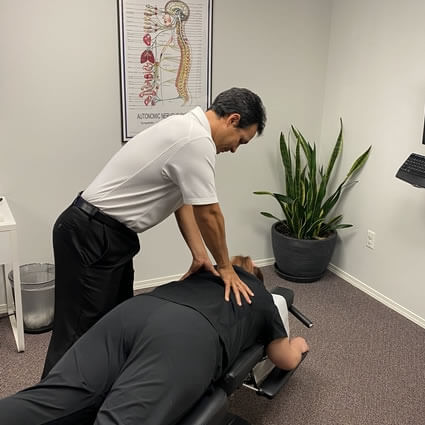 On follow up adjustment appointments you will sign in and take a seat to rest at least a minute to alter the nervous system cycle. Low impact rebounding for three minutes is performed before proceeding to an adjusting room to prepare for the adjustment.
Pre-adjustment Protocol
A pre-adjustment protocol starts with the use of a TempoScope instrument to detect heat patterns that may indicate the nerve component of the subluxation findings; static and motion palpation to verify the skeletal and soft tissue components of the subluxation; checking for unleveling of the head, shoulder and hips in weight bearing posture; and finally observing any imbalance of the lower extremity.
Your Adjustment
The major subluxation(s) is determined and adjusted each and every visit, and balancing of the lower extremity is the post-adjustment protocol before being released. If the doctor and patient is on purpose with the goal in mind this process can take place in as little as five minutes.
Patients relate, "that light feeling," "that surge of energy," "like walking on air" description immediately after adjustments in the process of regaining health under the chiropractic care.
Take Advantage of Our Offers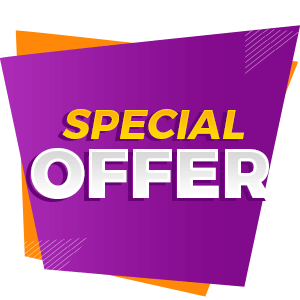 There are several different promotions and events we encourage you to take advantage of:
Family and friend referral special. Your family or friend who is a member of our clinic and get you a "Health Pass" where you'll receive 75% off on your initial visit, including any necessary X-rays and scans.
Free baby checkup. If you are a pregnant mother receiving care through your pregnancy we encourage you to bring in your baby for a complimentary initial visit.
Patient Appreciation Day. Once a year, in the beginning of November, you can bring in a donation to the food bank and get a free initial checkup.
If you are concerned about the costs of care, please do not be deterred. We want to make your care work for you and your budget. If you or someone you know is unhoused and frequents the local soup kitchen, Dr. Lisha is there once a week to adjust those in need.
Get the Answers You Need
If you want to stay healthy, we are here to be your information resource. Contact us today to schedule your consultation with one of our chiropractors in Moses Lake!
CONTACT US

---
New Patients at Life Wellness Chiropractic | (509) 766-8428